HOW OUR ONLINE PRINT MANAGEMENT SOFTWARE WORKS
LOG IN
 Log in to our Online Print Management Portal.
CHOOSE PRODUCT
 Choose which product you would like to have printed and make any needed changes to the text.
SEND TO PRINT
 Once you are happy with the online artwork proof, send the job to the print queue.
DELIVERED TO YOU
 We will then print your job and deliver it to your door.
WHY ONLINE PRINT MANAGEMENT SOFTWARE?
SAVE MONEY AND TIME
Save on production costs, competitive pricing and free postage in Australia.
QUICK TURNAROUND
 Most jobs will be turned around in 3-5 days and be delivered to your door.
SAFE AND SECURE
Safe and Secure platform. Don't worry, your data is safe with us.
HOW ONLINE PRINT MANAGEMENT SOFTWARE CAN HELP YOUR BUSINESS
Our Online Print Management Software gives you the ability to change variable data fields on any of the items you get printed. For example, on business cards fields such as name, phone, mobile, address and email can all be edited online. Anything you like can be marked as a variable field for future editing.
This means no more waiting for graphic designers to add new staff member names to business cards. No more paying designers to design new staff business cards or business stationery.
You can do it yourself. Our online print management software is free to use, user-friendly and you get quality printing at affordable prices. Sign up today and to get access and start saving time and money.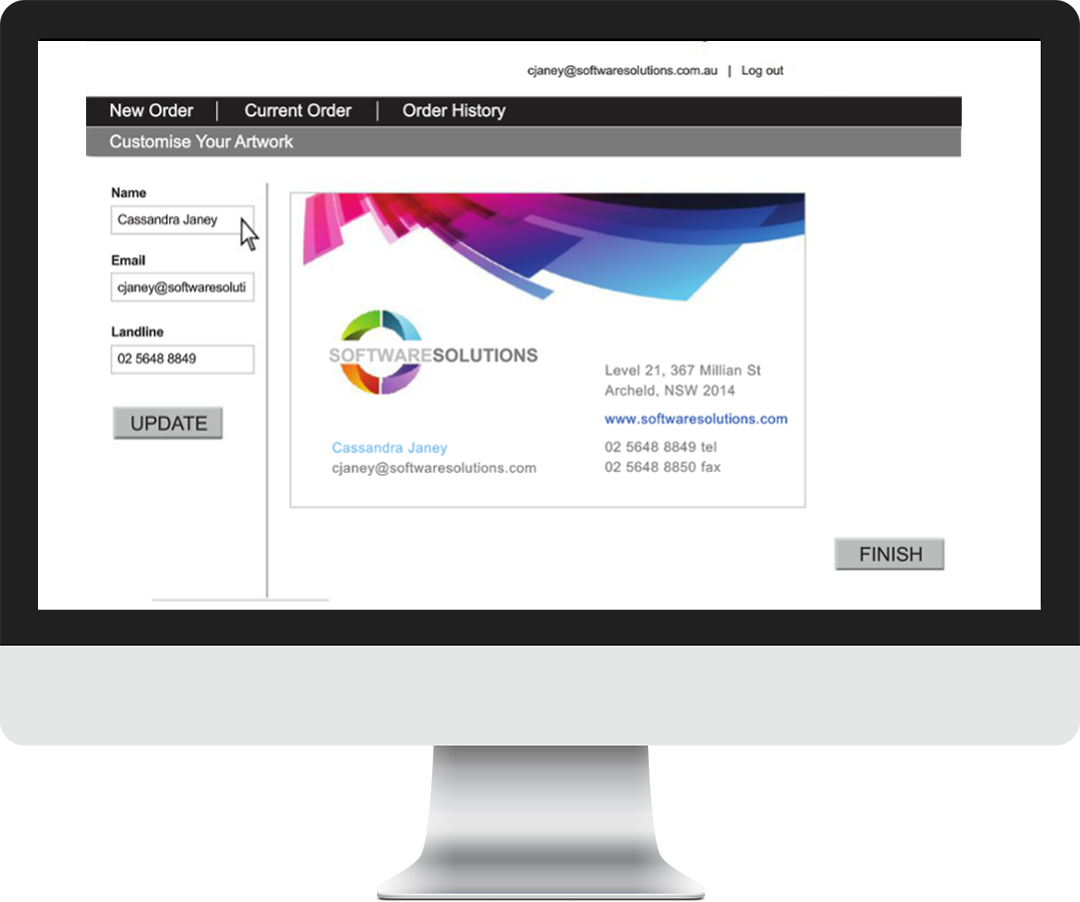 GET STARTED NOW!
SIGN UP TODAY AND GET ACCESS TO OUR ONLINE PRINT MANAGEMENT SOFTWARE. NO MORE PAYING DESIGNERS TO MAKE CHANGES TO YOUR BUSINESS CARDS OR BUSINESS STATIONERY. YOU CAN DO IT YOURSELF. FREE TO USE, AND QUALITY PRINTING AT AFFORDABLE PRICES.
 CALL ON 02 4306 0583 OR CLICK BELOW AND SEND YOUR DETAILS.